Practitioner Kim Gomez Sees Amazing Results Using Breakthrough PEMF and MagnaWave Treatments
During this uncertain time, working from home has our bodies all out of whack. If you are used to being in a workplace where you are on your feet or can get up and move around, you are seeing the effects it has been on your overall wellbeing sitting at home and staring at the computer all day.  
Kimberly Gomez, CEO of Wellness Waves, uses holistic treatments on humans and animals to treat common issues such as joint and muscle pain, weight loss, stress, circulation, inflammation and more. Launched in 2017, Kimberly uses a breakthrough treatment using PEMF (Pulsed Electromagnetic Field) and MagnaWave.  
What is this crazy talk we speak of? Well, MagnaWave treatments consist of pulsed electromagnetic waves being sent throughout your body to stimulate cellular repair. Practitioners often recommend using MagnaWave treatments along with conventional procedures and medication to balance our electromagnetic field, promoting better health. The best part is that MagnaWave is non-invasive and received while fully clothed. Lasting between 10-30 minutes, MagnaWave treatments are not painful and there are no adverse side effects. 
To receive the full benefits of PEMF Therapy, the treatment must reach the cells. Magnawaving uses high-powered electromagnetic pulses at a low frequency. Actively participating in US FDA studies, Magnawaving pulses are shown to reach through the body and benefit cells throughout the entire treatment area. This causes improvement in the systemic and arterial blood flow and benefits deep tissues. 
Kimberly earned an Associates in Veterinary Technology from Purdue University. With over 17 years' experience as a CVT, Kimberly wanted to branch out from surgery and private practice to follow her passion for helping others while still experiencing the joy she witnesses when her patients finally get the pain relief they've been wanting. The youngest of five in her family, Kimberly, has two brothers and sisters that are twins. Her father was in the Marine Corps and served in the Vietnam War.  
"I was introduced to PEMF Therapy through one of my sisters. Upon further research I convinced my mother to allow me to treat her for the severe sciatic nerve pain she was experiencing. With continued treatment, she became pain free and eliminated her need for any invasive surgery. Seeing the amazing results, I was convinced that I could bring my passion for helping others and my love for animals together. It brings me great satisfaction from helping animals and humans alike become pain free and have happier healthier lives." 
Kimberly decided to join our CEO Mindset™ course, thanks to a fellow veteran who recommended the program to her. Wanting to invest in her business, she was looking to focus on developing a business plan to help get her out of the employee mindset. Worried about failing or making the wrong choices, she realized she couldn't do everything independently. CEO Mindset™ helped her change her target markets, work on hiring employees to take care of the day-to-day tasks, and grow her revenue and clientele. "I feel that I have the potential for more clients now because I have a specific game plan for my business where before I was just going with the flow." 
As a result of CEO Mindset™ program, Kimberly knew she needed to work on her marketing but knew it was not one of her strengths. She teamed up with another JULO alum and fellow veteran, Patricia Murphy, with Marketing Smarty Pants, and delegated all her marketing needs to her and her professionals' team. Being an avid horse rider, Trish partnered with Kim when one of her babies had muscle tension and needed some therapy. We love seeing our alums come together to get shit done!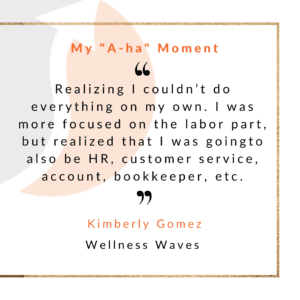 When she is not working, Kimberly is spending time with her two sons, Javier and Ezequiel. She enjoys outdoor events to enrich their lives with nature and expel some much-needed energy. As a US Marine Corps Veteran, Kimberly is currently working on a project to help fellow veterans with their physical injuries and mental illnesses as an alternative healing method, instead of narcotics and antidepressants that can further damage their bodies. 

Program expenses for all Florida veteran participants are covered through funding provided by the Florida Legislature and Veterans Florida
https://juloglobal.com/wp-content/uploads/2022/07/JULO-global-strategy-FINAL-NEW-1030x475.jpg
0
0
Juliann Nichols
https://juloglobal.com/wp-content/uploads/2022/07/JULO-global-strategy-FINAL-NEW-1030x475.jpg
Juliann Nichols
2020-11-05 13:12:43
2020-11-06 08:19:36
Practitioner Kim Gomez Sees Amazing Results Using Breakthrough PEMF and MagnaWave Treatments