Thom Favorin – CEO of Harvest Moon Seafood and Shrimp Connoisseur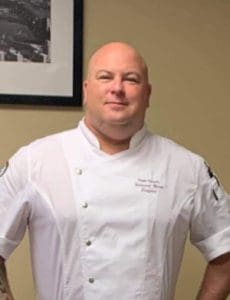 If you are looking for a lesson on shrimp, Thom Favorin is the teacher you need. As Founder and CEO of Harvest Moon Seafood, Thom and his crew supply all natural, chemical–free, sustainably caught Florida Pink, Atlantic White, and Royal Red Shrimp. They believe in bringing back local and naturally sourced product from great Florida fisheries to not only Florida restaurants, but people across the nation.  
Having a relationship with the Captains themselves, Harvest Moon provides sea to table fresh seafood. They are a 100% disabled veteran owned business providing the best product possible. A portion of their sales go back to fellow veterans and they partner with HEAVENDROPt, a nonprofit that employs disabled veterans and civilians to help give them purpose in their lives. They accomplish this by providing employment opportunities to these two segments of our population. 
Originally from Pennsylvania, Thom spent ten years in the Army before being medically discharged after an airborne incident where he broke his back. He became a medic firefighter for the next 20 years. After having a severe heart attack and subsequent triple heart bypass, he retired and started his entrepreneurship with Harvest Moon Seafood LLC. Believe it or not, Thom used to HATE seafood! After his surgery, his taste buds changed and now he cannot get enough of it!  
Thom can tell you everything you ever needed to know about shrimp. For instance, did you know that there are over 300 different species of shrimp? While only a small portion are available commercially, each one has its own flavor profile. White shrimp have a sweeter flavor profile, while pink shrimp are the common one you see behind the seafood counter. If you like lobster, rock shrimp or royal red shrimp are great for their firm texture and you can even substitute them for lobster as a more affordable option.   
Thom heard about our CEO Mindset course through one of our partners, Veterans Florida, and felt it was exactly what his business needed at the time. Finding out he was "too nice of a guy", he realized he needed to step up in the CEO role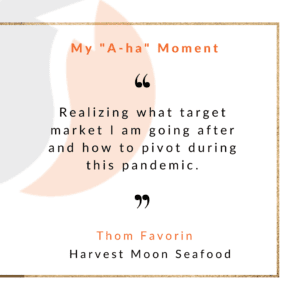 of his company and start taking control of what he needed for his business to succeed. "It was an amazing course with so much knowledge, and the energy throughout the whole group of participants was just amazing. The information was out there but you just didn't realize or think of it on a regular basis when running your company."  
Soon after taking the course, COVID took a toll on restaurants, taking Thom's production from 30 restaurants to just 2. Thom felt the anxiety most of the population was struggling with, "What do I do now? What is my plan B?" They pivoted to online home delivery and business took off. They will soon introduce an ecommerce website to be able to ship Florida seafood nationwide. After 7 months of hard work and collaboration, Thom and Harvest Moon Seafood have partnered with Jackson and Partners, a sales and marketing team that gives back to Veterans. 22% of Harvest Moon Seafood's gross net sales gives back to the HEAVENDROPt program. 
In his spare time, Thom loves going to the beach with his family, his wife of 28 years and two beautiful daughters ages 24 and 16. JULO loves your generosity towards your fellow Veterans, Thom. It's amazing to see how far you have come in your journey to success. We congratulate you on everything you have accomplished and can't wait to see your business thrive!  
https://juloglobal.com/wp-content/uploads/2022/07/JULO-global-strategy-FINAL-NEW-1030x475.jpg
0
0
Juliann Nichols
https://juloglobal.com/wp-content/uploads/2022/07/JULO-global-strategy-FINAL-NEW-1030x475.jpg
Juliann Nichols
2020-12-03 11:25:58
2020-12-03 17:35:58
Thom Favorin – CEO of Harvest Moon Seafood and Shrimp Connoisseur