Decorated Sailor, Veteran CEO and Founder of Triad Leadership Solutions: Enrique Acosta Gonzalez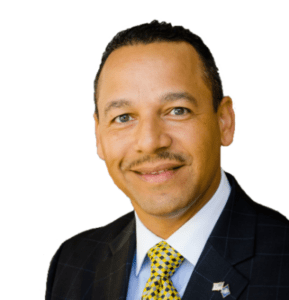 Enrique Acosta Gonzalez, CEO of Triad Leadership Solutions LLC, has served as an Executive, Veteran & Advocate, Board Member, Non-Profit Administrator, Speaker, Mentor, Coach, and Avid Volunteer. Over the past 20 years, Enrique has held numerous executive advisor and senior positions while serving in the United States Navy and civilian sector. Through education and training, he helped strengthen organizations, providing sound decision support and creating open communication at all levels. Enrique also helped formulate and implement policies concerning morale, welfare, job satisfaction, discipline, and training of personnel.
Enrique was originally born in Ponce, Puerto Rico in a neighborhood called: Sector Los Chinos, Clausells. Known for its many beautiful neoclassical buildings and facades, Ponce is referred to as: La Perla del Sur (Pearl of the South) and is potentially the most important city of them all as it pertains to the history of agricultural business development. It's the largest city.
After graduating from Alfredo M. Aguayo High School Enrique joined the Navy where he served for 26 years. He is the recipient of the Meritorious Service Medal, Navy and Marine Corps Commendation Medal, Navy and Marine Corps Achievement Medal. He was named 2013, 2014, and 2017 Mentor of the Year, and recipient of the inaugural 2014 Chief John Dungan Jr. Oceanographer of the Navy Award. He was also awarded The Arnold Fletcher Award and inducted into the SALUTE National honors society for his academic achievements. He remains involved in the Armed Services as an active volunteer for various projects and non-profits, earning him the esteemed Bronze, Silver and Gold President's Volunteer Service Award.
Enrique is involved in several national and local organizations; namely Veterati, CFDC Veterans Business Initiative (VBI), Camaraderie Foundation Mentor Leadership Program, and Navy League of Central Florida. He graduated from the Command Leadership Course, Navy Senior Enlisted Academy, holds an A.S. from Excelsior College, a B.A. in Natural Sciences and Mathematics from Thomas Edison State University, and is currently completing his M.B.A with Herzing University.
Enrique started Triad Leadership Group in 2018 with the goal of providing leadership, management, and career development consulting. Their motto is taking first-time and struggling leaders from 'SucKcess to Success' through coaching, assessments, trainings and mentorship.
Enrique attended our JULO Strategy's CEO Mindset™ course for one simple reason, "Learn what I need to know to make my business successful." Completing Phase I made him realize he was a worker, not a CEO, and helping him learn to be clearer on his processes and procedures, he was able to delegate more and have better clarity, vision, and purpose. "It is hard to go somewhere when you are not clear where you are going and why. The 'Why' is clear now."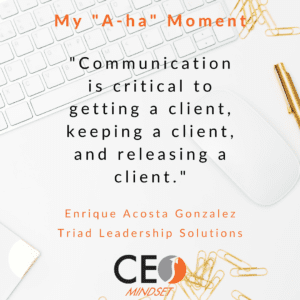 He continued to Phase II and grew exponentially, seeing immediate results from everything he had been taught. "I was able to reprogram my mind to see my company from a CEO perspective and go from working in my business to working ON my business."
JULO loves seeing everything you have accomplished, Enrique, and we look forward to seeing you and your business succeed!

Program expenses for all Florida veteran participants are covered through funding provided by the Florida Legislature and Veterans Florida 
https://juloglobal.com/wp-content/uploads/2022/07/JULO-global-strategy-FINAL-NEW-1030x475.jpg
0
0
Juliann Nichols
https://juloglobal.com/wp-content/uploads/2022/07/JULO-global-strategy-FINAL-NEW-1030x475.jpg
Juliann Nichols
2020-10-01 12:59:51
2020-10-02 16:59:30
Decorated Sailor, Veteran CEO and Founder of Triad Leadership Solutions: Enrique Acosta Gonzalez