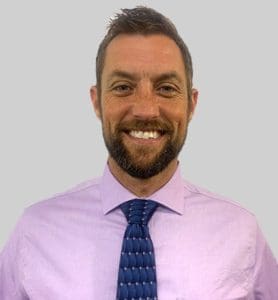 Steve Wooten, CEO, and founder of Woo10 LLC, is a former Army Interrogator who specializes in creating, managing and delivering learning content that enhances performance for organizations and individuals. Steve is a certified techno-enthusiast who has dedicated over 20 years to combating industry stagnation by challenging the expectations for what can be accomplished.
A pioneer in digital design, Steve's company specializes in creatively developing, optimizing, and enhancing all types of instructional content. They take calculated risks to go beyond current boundaries to create wildly successful clients. Building quality systems and genuine relationships with clients' long-term growth is their focus. They are creative, using their drive, commitment, and passion for encouraging, energizing, engaging, and inspiring others is how they do their thing 'really well' so that you can do your thing 'really well'!
Steve's expertise spans from Dept of Defense, Dept of Education, Nuclear, Oil and Gas, Healthcare, to Biopharma drug development platforms. He is a thought leader for "what is next" and continually optimizes his operations to stay at the top of his field.
He is a lifelong learner who stays exceptionally active. He's been married 21 years with a 20-year-old and a 16-year-old. His family moved to the Space Coast five years ago to experience rockets, beaches, and perpetual sunshine. He volunteers with the Sea Turtle Preservation Society flagging new nests along the beach. He enjoys hiking, riding bikes, and trying new things that gets his blood pumping. He's developed augmented reality experiences, polished stones, made beer, hiked the Grand Canyon, taught himself Braille, mastered Arabic, hatched butterflies in his flower garden and learned to play the guitar. Steve quips, "I totally dork out over rocket launches, new technologies, and Krispy Kreme donuts…although I'm trying to be gluten-free, so that's a struggle."
Steve attended JULO Strategy's CEO Mindset™ course to switch his mindset from employee/business owner to actual CEO. "I hoped to learn some effective techniques for growing my business and networking in my community." He continued to the Phase II course to further his knowledge effectively engaging his target market while increasing confidence as a CEO. By the end, he learned the necessity of documenting processes so he could position himself to outsource tasks later. It gave him the focus to sort out the competing priorities and helped him identify time-wasting customers.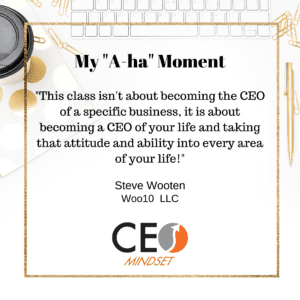 We love seeing how much you and your business have grown, Steve, and cannot wait to see you thrive as CEO!

Program expenses for all Florida veteran participants are covered through funding provided by the Florida Legislature and Veterans Florida
https://juloglobal.com/wp-content/uploads/2022/07/JULO-global-strategy-FINAL-NEW-1030x475.jpg
0
0
Juliann Nichols
https://juloglobal.com/wp-content/uploads/2022/07/JULO-global-strategy-FINAL-NEW-1030x475.jpg
Juliann Nichols
2020-09-03 15:51:23
2020-10-02 17:25:34
Why I Shifted From Employee Mindset to CEO Mindset: Steve Wooten Veteran CEO and Founder of WOO 10 LLC