In the World of Printing "Resilience" is Spelled: /Alice . DeGeorge/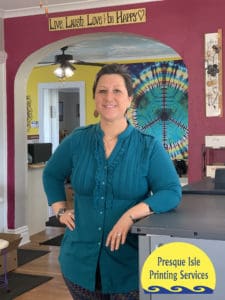 Alice DeGeorge is the Founder and Chief Executive Officer of Presque Isle Printing Services, LLC, specializing in start-ups, small businesses and nonprofits, with the goal of providing the best in-house graphic design, great looking printing, and on-brand marketing in the local Erie area.
When stated this way, it sounds so simple; but when Alice arrived in Erie, Pennsylvania in 1995, still in her early twenties, she did not envision how her career path might unfold. One could say that her crystal ball was…cloudy.
While enjoying all that Erie had to offer, Alice embarked on a series of unrelated pre-career jobs. Her favorite former job was at Erie's well-known Plymouth Tavern, where she worked for ten years as a waitress and trivia game host. To this day, she still praises the owner, Barb Haggerty, who taught Alice all she needed to know about great customer service and how to be a top-notch small business owner!
In 2004, Alice enrolled in Tri-State Business Institute and earned a degree in Website Development & Management; that credential laid the foundation for what Alice would describe as her "first real job," in which she updated websites for a fish tackle company. After a year, realizing that the job was not for her, she quit and jumped into her first print industry position with a small franchise located in Erie. Here she found her calling: a position in which she could mix her design skills with the fast pace of the print industry, combined with direct customer interaction. Beyond all doubt, she knew that this was her career sweet spot! However, after two years, her paychecks started to bounce. Having no other choice, she left that job for another graphic design position; but three months later that business was bought out by a larger company. Alice was given notice that, in six weeks, her employment would terminate.
That was it: working within the print industry, Alice lost two jobs within a period of six months. She knew what she had to do and she set about her plan. During her final six weeks of employment, Alice found an office space, equipment, machines and set up accounts with suppliers.
In the midst of the national housing crisis of 2008, Alice was able to obtain a small business loan with which she purchased two copiers; and, with a credit card capped at five thousand dollars, she was able to purchase spare equipment from fellow colleagues in the print industry. Her last day at the old printing job was also her first day of business ownership: Presque Isle Printing Services was now born! To her own amazement, Alice opened her business doors on December 1, 2008.
With her business well into its second decade, Presque Isle Printing Services is now in its third location, with expanded office space, private parking lot, attractive reception area, and lovely flowers blooming outside during Erie's growing season. All this, with Alice and expert staff inside, can be found at 4318 West Ridge Road. Even the casual observer knows that this is what success looks like.
Now a known participant in the Erie business community, Alice has embraced the mission of giving back to and building upon the capacities of others. She and her husband reside in Erie, the city which is now their home. She has skydived FOUR times and is the Queen of tye-dye t-shirts in Erie. She calls it her side hustle throughout the year and has made over 20,000 tye dye shirts all by hand!
In May 2017 the Jet Radio announcer, Allan Carpenter, opened the program by stating, "Thank you for joining us for "Keeping It Local, Keeping Erie Awesome!" I am here with my co-host, the irrepressible Alice DeGeorge!" There is no better one-word descriptor: irrepressible! Alice now interviews her clients who are advancing forward with their own dreams as local small business owners and who are also giving back to the Erie community. Her broadcasts travel throughout Erie and the surrounding region to reach the ears of listeners who enjoy Alice's friendly style and encouraging advice. As the creator and co-host of two live radio shows, she invites all to tune in on the 2nd and 4th Wednesdays of each month, as follows:
Keeping It Local, Keeping Erie Awesome – Alice places the spotlight on her customers, who are not only great local small business owners, but also people who give back considerably to our Erie community, through event and sports sponsorship, donating to non-profit events or organizations, volunteering in the community or by coming up with their own way to give back to the community that supports them.
The Go Ask Alice Radio Show – The idea for this show came after Alice had a journey with Breast Cancer in 2019. During this time, she learned so much and came to the realization that "Knowledge is power, but only if you share it with others!" On this show, her guests are local small business owners who share the knowledge, tips and tricks they have learned to help those coming up in the small business world! In June of 2020, Alice shifted the show into a one-hour call-in show. Local business owners could call with problems or questions, and Alice and her guest would do their best to help with the experience and knowledge they have gained as business owners themselves.
Both shows broadcast live from the Boston Store in Erie, PA on Jet Radio 1400Am, 96.7FM, streaming the I Heart Radio App and on Facebook Live.
Alice attended JULO Strategy's CEO Mindset™ online cohort to get guidance from her peers to help her navigate this unsure time in her business life. "I feel there is something on the horizon for me, but I have so many ideas, I am looking for help to wrangle them in, in order to get them going."
After taking Phase I she learned she has it in her to be a CEO of her company, not just an employee. "I was on the right path with how I was feeling. and can make the hard decisions to get the results I want to achieve."
Alice just finished our Phase II class and has seen revenue increase, gained 25 new clients, and is planning to hire an additional employee. She is planning on joining our new Phase III and we cannot wait to continue on her journey of success!
Alice has fulfilled her vision of becoming a successful business owner and radio show host. With her kind, fun-loving, hard-working, skilled, risk-taking, and creative spirit, she already serves as a role model for anyone within and beyond Erie, Pennsylvania. At 47 years of age and with decades yet ahead, there is no telling where her next round of successes might take her; but Alice DeGeorge will be on the path to someplace beyond the status quo…and knowing Alice, she will make that a much better place.
https://juloglobal.com/wp-content/uploads/2022/07/JULO-global-strategy-FINAL-NEW-1030x475.jpg
0
0
Juliann Nichols
https://juloglobal.com/wp-content/uploads/2022/07/JULO-global-strategy-FINAL-NEW-1030x475.jpg
Juliann Nichols
2020-08-20 17:26:36
2020-08-28 09:08:28
In the World of Printing "Resilience" is Spelled: /Alice . DeGeorge/