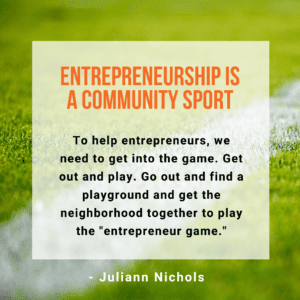 I am a native of Kansas City. Born on the Missouri side and lived on the Kansas side after the age of 13.
I love my hometown. I love that Kansas City is in the heart of America. It is also the heart of entrepreneurship. I started my first business there. Last year I attended the eShip Summit in Kansas City presented by The Ewing Marion Kauffman Foundation. The Summit started my journey from "just being a strategist for entrepreneurs" to being an entrepreneur ecosystem builder. I met amazing people from all over the world and spoke about the CEO Mindset. Over the past year, the people I met there have collaborated with JULO Strategy to help entrepreneurs get into the CEO Mindset. To not only start a business but to learn how to "run" the business.
I attended the eShip Summit again this year, virtually. I long to hang out with my new tribe again and hope that next year, we will be able to gather around a real campfire. What resonated with me was this, Entrepreneurship is a Community sport!
This week in the JULO newsletter, we are talking about Kansas City, sports, and entrepreneurship.
I currently live in the Tampa/St Petersburg, Florida area, and I have seen entrepreneurship explode. There are so many great resources and people to help you move forward in your entrepreneur journey.
There is still a lot of work that needs to get done. Better collaboration among the resources, and all working together to service the entrepreneur and prepare for success ultimately builds the ecosystem.
To help entrepreneurs, we need to get into the game. Get out and play. Go out and find a playground and get the neighborhood together to play the "entrepreneur game." Sitting on the bench gets nothing done. Government, from city, county, state, and federal, can collaborate with the entrepreneur ecosystem builders to get shit done. Let people from all backgrounds and ethnicities reach out and play. I want to help all entrepreneurs. No-one turned away because "I am not ______ enough."
At JULO Strategy, we want to help all entrepreneurs. No matter where you are in your entrepreneurial journey. We collaborate with every race, creed, industry, background to help and support our entire community and beyond.
Yes, Entrepreneurship is a Community Sport. There are a lot of positions that need to be filled to play the game. Get off the bench, and let us build communities: everyone benefits, not just entrepreneurs. When we help entrepreneurs, we help communities.
Wanna play? If you want to start a business or have started a business and want to move forward, call JULO Strategy. We are ready to play. Follow us on social media and join us on our upcoming Virtual JULO playground to answer questions about how you, me and anyone else can collaborate. Create jobs, generate revenue and get shit done.
Subscribe To The JULO Strategy Newsletter!
[mc4wp_form id="3456″]
https://juloglobal.com/wp-content/uploads/2022/07/JULO-global-strategy-FINAL-NEW-1030x475.jpg
0
0
Juliann Nichols
https://juloglobal.com/wp-content/uploads/2022/07/JULO-global-strategy-FINAL-NEW-1030x475.jpg
Juliann Nichols
2020-09-17 13:28:50
2020-09-18 14:53:03
Entrepreneurship Is A Community Sport: Juliann Nichols CEO and Chief Strategist