Eliminate Your Fears And Doubts About Branding: Meet Lesley Jean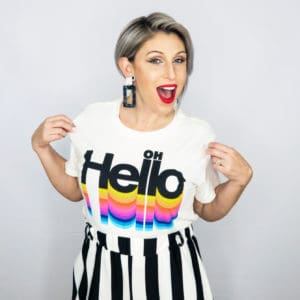 Lesley Jean is a creative expert. She serves her clients extremely well as a branding/web strategist and the CEO of Moonshine Creative Group. Over the past 16 years Lesley has played a key role in building and branding several successful 6-figure to multi-million dollar businesses, including her own. In other words, she's seen a lot of "stuff" go down in the digital marketing world. Through her sought after talks, delivery of online courses and many other agency services, Lesley Jean simplifies branding and marketing strategies for struggling and scaling business owners. She guides them through launching and sustaining successful brands that enable business leaders to work in alignment with their passion and purpose.  
Lesley's bold, colorful website matches with her outgoing infectious personality. Before she was a CEO, she taught hula hoop dance and can even hula hoop with fire! Despite naming her business Moonshine, her true passion is champagne, preferably Moet Ice! She loves patterns, especially black and white stripes (if you haven't noticed already in her headshot ????) collects yo-yos and is a certified reiki master.  
If you are wondering what most of us are…what the *bleep* is a reiki master? They perform a type of therapy, combined of Japanese and Chinese "rei" (spiritual or supernatural) and "ki" (vital energy) often described as a healing treatment that works holistically on the body, mind, and spirit. It is simply a relaxation technique great for eliminating stress, enhancing memory, and physical healing.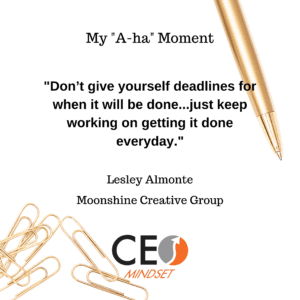 Lesley attended JULO Strategy's CEO Mindset™ course to work on the art of delegation. "I needed a shift to get clear on my evolving organizational chart. Building an internal team instead of using contractors, and developing processes for executing on courses and programs for my community were some other key focus areas for me." After completing the class, she was able to hire an additional employee, brought on new vendors, and increased her fees for better revenue.  
She is currently enrolled in our CEO Mindset Phase II course and is proving to be the badass CEO of her business. We love what you do Lesley and enjoy having you as a part of the JULO community.  
https://juloglobal.com/wp-content/uploads/2022/07/JULO-global-strategy-FINAL-NEW-1030x475.jpg
0
0
Juliann Nichols
https://juloglobal.com/wp-content/uploads/2022/07/JULO-global-strategy-FINAL-NEW-1030x475.jpg
Juliann Nichols
2020-08-05 18:30:06
2020-08-06 14:32:49
Eliminate Your Fears And Doubts About Branding: Meet Lesley Jean